Sorry, if you're looking for deep, soul-illuminating thoughts, you're out of luck with me tonight. Just a few quick thoughts and observations that I've had that I feel like putting out there for the world.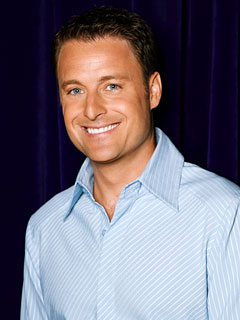 1 - Looking for something to watch on TV now that Lost and The Bachelorette are over? Try the Bachelor Pad for a Elimindate meets Real World meets The Bachelor/ette. Thank goodness it hasn't crossed the lines into "Flavor of Love" or "Rock of Love" territory yet (two scummy VH1 reality shows). The operative word there is "Yet". The redeeming element of the show is
Our Host Chris Harrison
. Chris Harrison is just always awesome. We're bffs in my head - we've had a long relationship - we even finish each other's sentences from time to time! Total Bff status.
Or check out any of the great, fun shows on USA - White Collar, Covert Affairs, Burn Notice (Michael Westin, I love you), Psych (one of the funniest shows on TV, seriously), and Royal Pains. All have good storylines, fun characters, and are great clever shows.
2 - When I'm housesitting one of the things that I find myself doing is watching music videos on MTV's Comcast music video channel (MTV Hits). Right now they are showing all the videos that have something to do with the VMAs - either as prior winners or are nominated in some category at this year's upcoming VMAs. Watching them is like a recent history lesson. Did you know that Aerosmith won the VMA Video of the Year in 1998?? I
know
. You feel old don't you? Did you also know that Steven Tyler (rumored to be one of the new judges on American Idol) is quite the androgynous-looking fellow? Did you know that Limp Bizkit won the VMA Video of the Year in 2000 AND 2001? I
know.
Can you believe that Limp Bizkit used to be considered worthy of getting a VMA? Let alone two of them?? No wonder Emimen had such a feud with Fred Durst. After watching those videos I couldn't believe they actually were that popular!
You know what I also wish? That we could fast forward Justin Bieber 7 years, to when he is 20 years old and has gone through his hook-up with a former Disney channel starlet, and decides to collaborate with The Neptunes to put out his first CD as a solo artist, and then a few years later decides to work with Timbaland and puts out another really awesome album....OH, WHOOPS. I just realized I was talking about Justin "JT" Timberlake. Where
are
you Justin "JT"?? Can you
please
put out another album and quick so that I don't have to be assaulted by the crap that Justin Bieber is putting out there? There are only so many "Baby, Oh Baby"s I can take.
Although, as an avid ABDC (as in America's Best Dance Crew) fan, I couldn't help but notice that my girls Beat Freaks and the Season 5 champs Poreotix are in the music video "Somebody to Love"! Go gals and guys - live the dream (even if it means dancing in a Justin Bieber video, ugh - at least Usher is also in it).
I'm looking forward to the VMAs this year - one can only hope that another Kayne-Taylor moment will occur! (You know that's what the execs at MTV are hoping for.)
3 - While this has been a great year in many, many ways, it also has been hard. My best friend said the other day that 2010 will go down as the year of hard - not bad, just hard. And I completely agree. Which is why I'm looking forward to getting away for a week in a little bit. It'll be a good time to rest, recuperate, read, think, pray, and write.
Annnd with 2 minutes to go, I'm done! Happy Thursday (only 2 more business days then it's the weekend!)!