I know that I haven't been keeping up with the new season of "The Bachelorette" on here, but I have 5 thoughts from this past Monday's episode.
1 - When
One F Jef
, or "
Ducky
" as I refer to him, and Emily were in the Eye and all he could keep talking about was kissing Emily and how much he wanted to, but then the moment was passing by, all I could thing of was that if he had had a trusty crustacean to sing "Sha-la-la-la, kiss de' girl", he might have had more confidence to go for it before the ride was over. At least they finally shared a kiss that night.
2 - "I'mma 'bout to go all West Virginia, backwoods, hood rat on his a$$" has got to be one of the best lines uttered on reality television. Ever. Especially since Emily is the furthest thing from a redneck, trailer park, backwoods West Virginian that there could be. Maybe she applies the same logic that I do when singing along with "Redneck Woman" in my car, dressed in pearls and a popped collar.
3 - One F Jef/Ducky's outfit for the first part of his one-on-one was priceless. Light grey knit blazer. With arm patches. And a skinny tie. And folded square pocket square. Tight khakis/jeans. Wingtip shoes. It was a thing of hipster beauty.
4 - Ryan's scarves were about the most d-bag things I have ever seen. It literally made my skin crawl each time he came on screen wearing a scarf. I mean,
really
???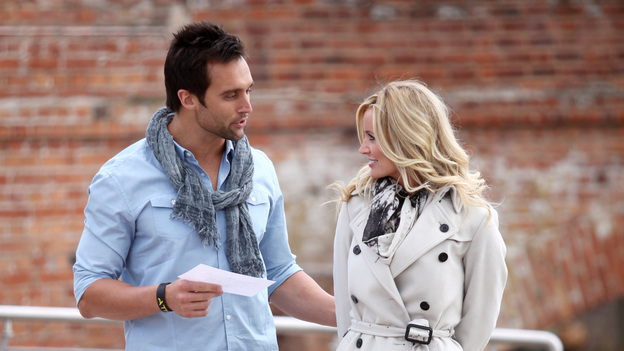 Come on, Really??? That scarf?? UGH
I predict that Sean, Arie, and One F Jef make it to the final Three. I think Doug and Ryan will be in the top five, unless either is surpassed by Travis (which I hope so! Come on Madison, MS!). I believe we'll be saying "Adios" to Wolf Boy and young buck Chris in the next few episodes. What about you? Who do you think will make it to the final three?