This is the question that I find myself asking most evenings when I finally make it out of the office and walk into my apartment, after facing the difficult task of figuring out what I am going to eat. There really isn't any good television right now - nothing that is a not-to-be missed show, with the exception of three shows:
Lost
- This one should just go without saying. This is one of the best shows I have ever seen. I love every episode (for the most part) and it always keeps me interested. There are so many twists and nuances to each episode. The characters are amazing and the development of them is phenomenal. It just simply is a fantastic story/mystery that has me wrapped around it's finger. I will be very sad when the last episode airs this season. (Thank goodness summer baseball starts like two weeks later.)
Deadliest Catch
- My favorite reality show right now. It probably should be called a docu-reality show. Every episode has me on the edge of my seat, because the conditions that these men work in and come through, are unreal. Last night a ship fishing for cod, away from the crab fleet that the show follows, went down in the Bering Sea, and the cameras followed the Coast Guard as they combed through seas that were experiencing hurricane conditions. This ship was 900 miles away from the nearest Coast Guard station and it took them 7 hours to get to its location. Watching them comb the sea was gut-wrenching because there was very little chance for survivors. And as they found an empty life-raft, my heart just sank further. The episode ended with them finding a man who, though he was in a survival suit, had succumbed to the treachery and conditions of the Bering Sea. This is the reality that the crab-men fish in, and to see the shots of the Bering Sea wash over their boats, and still watch them setting crab pots, with hurricane winds and seas was absolutely unreal. On a much, much lighter note, Crosby on the
Wizard
should be on the Bachelor - very hot. (Though, the last fisherman the Bachelor had, Byron, turned out to be a kind of a nut job - or at least the girl he picked is - so maybe not.)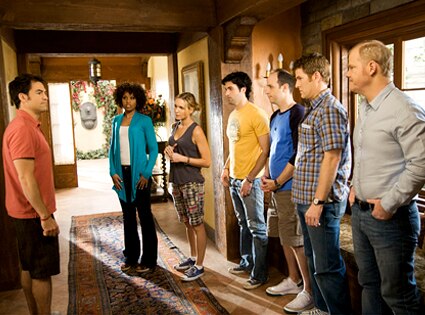 My Boys
- If you've never seen this sweet comedy, you should check it out. Such a sweet, fun comedy! Besides, the main character on the show, PJ, is a girl that is sort of after my own heart. The show has kind of grown from what it started as, but it has grown in a good way. Jim Gaffigan is absolutely hilarious on this show - I probably laughed for 5 minutes at his part last night. So glad that TBS continues to support this series.
Other shows that I am looking forward to recording this summer - Burn Notice and hopefully a new season of ABDC (fingers crossed!!). Check out Burn Notice on USA if you haven't had a chance. Jeffrey Donovan is awesome, as is the rest of the supporting cast.
Everything else you should just follow through the recaps on
EW.com
. The people who write for EW.com are hilarious and you don't need to watch any episodes, unless you want to laugh in agreement with their assessments!